Queen Victoria's bloomers have sold for a whopping $9000 dollars at a central England auction today. From the Associated Press...
"The handmade knickers — which date back to the 1890s — bear the monogram "VR" for Victoria Regina. They are open-crotch style, with separate legs joined by a drawstring at the waist, a popular style in the late Victorian era.


The royal drawers belonged to a family in western England whose ancestor was a lady-in-waiting for the queen.


"These pants, considering their provenance and pedigree, are very exciting," Hanson said. "They are monogrammed and crested and we know that they are hers."


Also up for auction was Queen Victoria's chemise, with a 66-inch bust, sold for $8,000. Her nightgown sold for $11,000.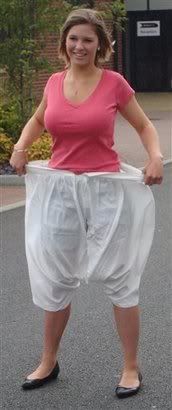 Read more HERE
No doubt several VFG sellers have similar Victorian Era whites available.....just without the royal provenance!