Club Vintage Fashions presents:
Sunday Double Feature!
This week we are showcasing items from fellow Vintage Fashion Guild members that we think are "the berries" so without further ado here we go!
Patriotic Swing Peplum Dress Suit Vintage 50s Belted Nip Waist Jacket 2 Skirt Blue Hand Painted Red White Blue Accents 40s 3 Piece M L VLV from MaterialMemoriesLane

LILLI ANN PARIS Vintage 50s Coat in Holiday Mohair Plaid Wool with Attached Scarf from VintageDevotion


Exquisite Women's Wool Skirt Suits - Circa 1940s through early 1960s
.
The 1940s through the early 1960s was the heyday of beautifully tailored women's skirt suits, as sophisticated, and stylish now as they were back in the day.
Many of these suits were made of fine wool or silk fabric and featured exquisite details such as fur collars and lovely seaming and fit.
The Reflections of Vintage sellers network are pleased to present the following women's skirt suits currently available in their shops.
Vintage 40s 50s Designer Youthcraft Navy Blue Wool Garbardine Hourglass Peplum Jacket and Skirt Suit -- With Silver Mink Collar - Size Extra Small from
CATSEYE VINTAGE

Vintage 40s 50s Glenhaven Blue Tweed Town Suit Nipped Waist B34 Size Small from
AFTER DARK VINTAGE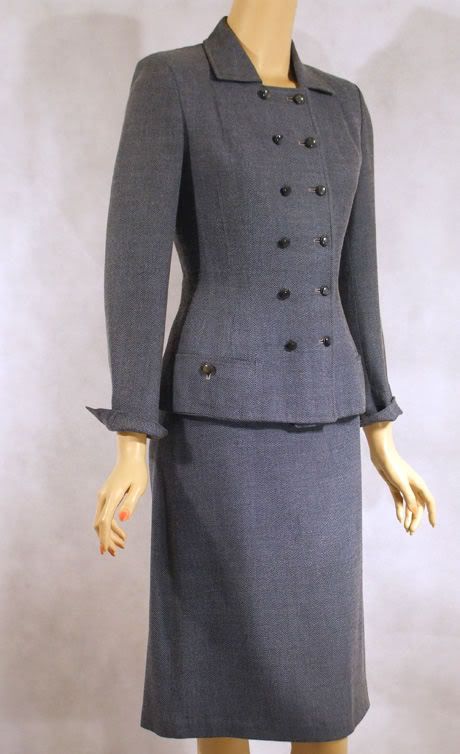 Vintage 40s 50s Designer Handmacher Wool Gabardine Hourglass Chocolate Brown Jacket and Skirt Suit -- Size Small to Medium from
CATSEYE VINTAGE