The last survivor of the Titanic is selling some of her memorabilia to help pay for nursing care, including a small wicker suitcase full of clothing.
CNN reports...
"Millvina Dean, the last living survivor of the disaster, is selling some of her mementos to help pay her nursing home fees.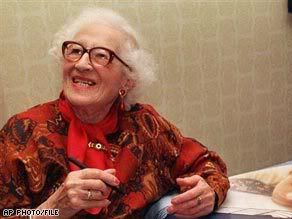 Dean's artifacts, including a suitcase given to her family by the people of New York after their rescue, are expected to sell for about £3,000 ($5,200) at Saturday's auction in Devizes, western England.


Dean, 96, has lived in a nursing home in the southern English city of Southampton -- Titanic's home port -- since she broke her hip two years ago.


"I am not able to live in my home anymore," Dean was quoted as telling the Southern Daily Echo newspaper. "I am selling it all now because I have to pay these nursing home fees and am selling anything that I think might fetch some money."


Dean's items form part of a sale by Henry Aldridge and Son, an auction house that specializes in Titanic memorabilia."
Lets hope Millvina gets more than she's counting on.